About Us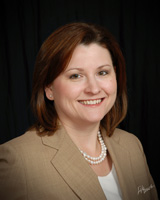 Achieve Success, LLC was established by Laurie Mrva Powers to assist business owners and professionals to clarify their vision for success, identify and create the positive change necessary to maximize potential and achieve profitable results. Click here to read her client testimonials.

After working in a corporate retail office for 11 years and experiencing much success moving up the corporate ladder, Laurie had the opportunity to branch off into the area of work that she was most passionate about: helping others develop the skills and attitudes necessary for their SUCCESS.

She started her career in retail stores during college; upon graduation, she was promoted into the corporate office. Laurie's strengths lie in her ability to motivate and develop people; objectively analyze a situation, break down what information is needed and the actions to be taken to move forward; and stream-line processes and develop tools to enhance effectiveness and efficiency.

Prior to establishing her company, Achieve Success, LLC, Laurie completed intense training in the materials and development process that she implements and has received her certification in facilitation. She has 600 colleagues with whom she collaborates and draws upon their experiences to offer the best service to her clients. RAC (Resource Associate Corporation) - a company with 30 years of experience in achieving results - continuously re-evaluates and updates the materials and methods used for relevancy in today's world. Laurie continues to expand her knowledge by working with a mentor coach and attending quarterly development sessions.

Our uniqueness is our ability to provide a custom solution designed for your specific needs, along with implementing a development method that produces life-time changes. We develop people to use the skills and knowledge they already have more effectively to achieve the common organizational goals.

Laurie found her way to the Roanoke Valley after visiting friends in the area in the summer of 2005. She fell in love with the mountains and the kindness of everyone she met. Although it took her 2 years to arrive, she is enjoying exploring her new surroundings, meeting new people and becoming involved in the community. Laurie has joined a bowling league, a sport she has participated in for over 20 years and has become an active volunteer in the Botetourt community theater, Attic Productions. In pursuing a career in the training and development field, Laurie has joined the Roanoke Valley American Society for Training & Development (ASTD) and the Salem Roanoke County Chamber of Commerce.

Laurie has a "can do" attitude and believes that with a common focus anything can be achieved. Her goal is to help you achieve results: whether that is taking your business to the next level, becoming a motivational manager or improving your satisfaction in your personal life.

If you are not achieving the results you would like, please contact us to set up a mutual evaluation to find out how we can help you or your organization achieve greater success.


Create a Win, Win environment within your organization that welcomes personal growth, fosters communication and encourages people to maximize their potential.
Testimonials
Laurie Mrva's "developmental" coaching model is a unique and invaluable client centered approach. In a few sessions she helped reveal, reshape and refocus important thinking and behavior patterns. Also, her approach surfaced and brought clarity to abilities for approaching challenging situations – short-term and long-term. Anyone wanting to discover ways, from within themselves, to become more effective personally and professionally should seek and embrace Laurie Mrva's Achieve Success Developmental Coaching.
Larry Allen
Founder, Enterprise Power
www.EpPower.com
Laurie was the guest presenter for our annual manager's retreat and did an outstanding and extremely professional job! She met with us several times before the retreat to discuss our goals for the meeting and really made sure she understood what our company and its people are about. She molded her presentation perfectly to fit our time constraints, budget and objectives....
Click here to read the complete letter.
Monica Roman
BCR Property Management
I was determined to take the time to get out of my regular routine and re-evaluate my efforts.
The program was structured to keep me on track (which is not easy, but she was firm yet empathetic), elaborate enough to help me understand the importance of the exercises, and tangible so I could feel it, see it, carry it around even.
I was awarded Agent of the Year last year and am in the running again this year, went on an adventure that took me across the country, improved my finances and improved my personal relationships.
Laurie Mrva can help you define your success, and achieve it. She helped me. She can help you. Decide right now. You'll be glad you did....
Click here to read the entire letter
.
Caleb Mann
Caleb Mann Agency, Farmers Insurance and Financial Services
Laurie focuses on what works for you, in a positive, uplifting manner, so that you may achieve your goals and obtain what you desire. Those who know me will tell you I am very much 'big picture'. With Laurie's guidance, I am able to drill down to daily tasks, thus allowing me to achieve my large goals. I am taking action and creating the life I want for myself and my family. If you want to truly live, instead of merely exist, team up with Laurie.
Suzanne Ashley
Independent distributor for SendOutCards and Eiro Research
www.linkedin.com/in/suzannekashley
I knew that having a plan was the first step to success before I began working with Laurie, but I missed a huge element of the planning process. Did I honor my values in the planning? Do I implement the same planning process in my personal life? Laurie has helped me realize that honoring the non-negotiable values I have for myself and others, without deviation…both in business and in my personal life, would help me achieve a much higher level of success!!
Holly Coors
Sales Consultant & Founding Referrals for Life™ Member
Laurie changed my attitude as to what I can achieve in life. Everyone has dreams and aspirations for their personal and professional lives. However, very few ever achieve their dreams because they simply donít know how to get from here to there. It really helps to have a roadmap and Achieve Success helps you create one. I want to look back on my life and know that I achieved my version of "The American Dream". Thanks to Laurie, I'm on my way seeing progress daily! Living your dream life is priceless.
Samantha Steidle
Fox 21/27
On behalf of the Board of Directors for Roanoke Area Ministries, I want to thank you for your exceptional service to our non-profit organization as our consultant and leader of our Board and staff retreat....
Click here to read the complete letter.
We applaud you for your professionalism, your leadership skills, and your sincerity in caring that we grow and succeed in the services we provide to those who are needy and marginalized in the Roanoke Valley.
Kenneth P. Lane, Jr.
President, Roanoke Area Ministries
www.roanokeareaministries.org
Laurie Mrva of Achieve Success provides insightful sales coaching that truly delivers results. Her years of experience in the business world and her unique approach to problem solving made my experince with her invaluable. Thank you, Laurie!
Top qualities: Great Results , Expert , Creative
Susan Halpin
Hired Laurie as a Career Coach in 2008
Laurie Mrva is a very skilled and insightful coach. In our individual coaching sessions, her probing questions and ability to help me identify underlying problems and self-defeating attitudes were key in helping me get past those obstacles in order to make positive changes in both my business and personal life. I continue to use what she taught me, and I see no end to the successes I can achieve. If you are considering investing in your personal and professional growth, I would definitely recommend that you speak with Laurie.
Janeson T. Keeley
Owner/Web Site Consultant, JTKWeb
www.jtkweb.com
I have worked with Laurie for several years in different capacities. Laurie has always worked well with her peers and executives and has earned their respect. Laurie possesses a positive attitude which carriers through to her team. She has always supported and worked to attain the company goals.
Jay Esau
VP Planning/ Allocation
Footlocker/Foot Action/Kids Footlocker
Laurie went through many changes in 2006. She had two new direct reports and a new boss. But she kept a positive attitude and kept very focused on what needed to be done. Laurie had the respect of her peers as well as the executive group. Laurie was a pleasure to work with.
Jeff Glackin
VP Planning/Allocation
Lady Footlocker
Laurie is a tremendous asset to any team. Her strengths lie not only in her planning skills and knowledge of retail, but also in her ability to multi-task and maintain a level of organization. She has a proven track record of developing individuals in her group.
Linda Konopka
VP/DMM Apparel
Laurie Mrva is an incredibly bright individual who is methodical and calculating in her planning ability to work with numbers and planning and computer systems. Laurie is a valued associate you can count on to get the job done in an efficient and precise manner.
Nancy Lanzet
Private Label Apparel Buyer