Do You Provide Opportunities For Your Employees...
...to make a significant contribution to the organization?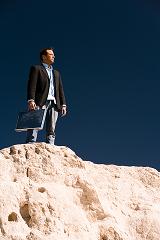 Of course you do. Employees already have their responsibilities and deliverables. They know what to do and how to do it. A system of audits and quality control already ensures that human errors are caught and corrected. A system of rewards and recognition is in place; a monthly or year-end incentive plan motivates the high performers.
But now you wonder why sales only shows minor incremental growth. You realize that there is little innovation. Decisions come slowly, and only after being passed up the ladder. Senior management has to push for new programs; none are being suggested from the rank-and-file. You struggle to identify "high" performers who deserve the year-end rewards.
Let's concentrate on the phrase "significant contribution."
Generally a "significant contribution" is the result of innovative thinking - thinking outside the box - considering a situation from alternative points of view. But explicit responsibilities and deliverables are, generally, simply lists of tasks. A list cannot generate innovation.
Employees can only innovate when they know the organization's mission and vision. They need to know the organization's goals and capabilities, not just their own roles and tasks. Employees can only innovate when they know that success will be rewarded, and that "failure" will be treated as a learning experience.
Employees can only innovate when they know that there is latitude for experimentation. "Latitude" does involve limitations. By all means, limit the budget or the timeframe for innovations, but ensure that the limited "innovation budget" has room for meaningful experiments.
But, beyond "knowing", there is also the need for energy. The best computer won't run without electricity; nor the fastest car, without fuel. How can you energize your workforce?
Be clear in your organization's mission and goals. Fuzzy goals leave everyone wondering, "Just what does that mean?" Don't just aspire to be an industry leader - aspire to lead the industry in a measurable way. Aspire to lead in numbers of new customers, or new products, or in price, or in volume. State a clear vision of the mission.
Share your organization's mission and goals. Communicate them to everyone. Ensure middle management carries the flag and explains the goals to their staff. If the employees do not know the mission, how can they contribute?
(There's a story that staff persons at NASA were asked about their jobs. Most replied with variations on, "I do my specific job." But one janitor said, "I help launch rockets." That was the person who understood and internalized the mission; imagine the attitude he brought to work!)
Align the employee's personal goals and development with the corporate mission. Ensure that responsibilities and rewards truly are aligned with the company's goals.
(There's a story about a company with the goal of selling products "A", "B", and "C" in similar volumes. Management was concerned because "B" far outsold "A" and "C" combined. The sales people, however, were responding to the tangible message that the commission for product "B" was much higher than that of "A" or "C".)
So is that all it takes to empower your employees to significantly contribute to your organization? Frankly, no - but it's a great start.
~ © Copyright protected, all rights reserved worldwide. Written for us by Gary Sorrell